Previous Movies
2013
Dir: Steven Spielberg                  USA                1974
110  mins              
Starring:  Goldie Hawn, Ben Johnson, Michael Sacks        
Language: English
With the help of an irreverent young sidekick, a bank robber gets his old gang back together to organize a daring new heist.
"As you would expect, Spielberg marshalls the cavalcade of careering cars and shootouts with efficiency and style, alternating between slapstick stunts and terrifying violence. Where Sugarland really scores is in its human drama: the shifting feelings between the characters are touchingly drawn. A sublime marriage between spectacle and emotion."
(Empire Magazine)
"Fugitive couple (Hawn, Atherton) plus kidnapped cop (Sacks) and patrol car take on police chief Ben Johnson and an ever-growing caravan of assorted cars, newsmen, sightseers and wide-boys out for a shoot-up in an across-Texas chase caper that has its protagonists overtaken by events beyond their control and comprehension. Despite the obvious similarity to the Roadrunner cartoon that appears at one point – both as a comedy and in the casually destructive violence employed – Spielberg's first feature for the big screen also touches on many aspects of American life and cinema: the role of the media, the matriarchal society, consumer possession, the decline of the American hero, and the increasing depersonalisation of everything. A beautifully put together, assured film."
(CPe, Time Out)
Dir: Alfred Hitchcock                  USA                1964
88  mins              
Starring:  Tippi Hedren, Sean Connery, Diane Baker        
Language: English
Rumours abounded that Grace Kelly would be making a comeback before this adaptation of Winston Graham's novel went into production.  Her icy aloofness would have been perfect for the tale of kleptomania, frigidity, fetishism and suppressed anxiety, and Tippi Hedren was considered no substitute by contemporary critics.  Hindsight has established this as on of Hitchcock's most fascinating "misfires".  Some of the conspicuously artificial set design and the back projection may not suit all tastes, but watch for Robert Burke's suave colour photography and the mental duel between a man (Sean Connery) turned on by crime and a woman who steals to forget.
(Radio Times guide to Films 2013)
"This remains a compelling Hitchcock thriller but it's Tippi Hedron's remarkable central performance which steals the show."
(Kim Newman, Empire Magazine)
"Universally despised on its first release, Marnie (1964) remains one of Alfred Hitchcock's greatest and darkest achievements. Tippi Hedren, in a performance based on a naked, anxious vulnerability, is a compulsive thief; Sean Connery is the neurotically motivated southern gentleman who catches her in the act and blackmails her into marriage. The examination of sexual power plays surpasses Fassbinder's films, which Marnie thematically resembles, going beyond a simple dichotomy of strength and weakness into a dense, shifting field of masochism, class antagonism, religious transgression, and the collective unconscious. The mise-en-scene tends toward a painterly abstraction, as Hitchcock employs powerful masses, blank colors, and studiously unreal, spatially distorted settings"
(Dave Kehr, Chicago Reader)
Dir: Majid Majidi   Iran                1997
88  mins              
Starring:  Mohammad Amir Naji, Amir Farrokh Hashemian, Bahare Seddiqi          
Language: Farsi with english subtitles
This delightful comedy from Majid Majidi, a key member of the younger generation of Iranian film-makers, proved something of a favourite on the festival circuit.  Like The White Balloon and The Apple, it confirms the Iranian industry's genius for movies about children, with Mohammad Amir Naji and Mir Farrokh Hashemian wondrously natural as the impoverished siblings who try to disguise the loss of the latter's shoes by sharing a pair for school.  This enchants as much as it entertains. (Radio Times Guide to Films 2013)
"Children of Heaven" is about a home without unhappiness. About a brother and sister who love one another, instead of fighting. About situations any child can identify with. In this film from Iran, I found a sweetness and innocence that shames the land of Mutant Turtles, Power Rangers and violent video games. Why do we teach our kids to see through things, before they even learn to see them?"
(Robert Ebert, Chicago Sun Times)
"The performances from Amir Forrikh Hashemian and Bahare Seddiqi as Ali and Zahra are wonderful: Seddiqi sweetly thoughtful and loving, Ali tremulously bright and sensitive, habitually on the verge of tears. This is a pellucid and gentle film, made with the simplicity and grace of a children's tale and yet its humour, emotional clarity and directness speak directly to adults and children alike – and the pre-teen principals shoulder an adult burden of performance. It is a film whose images and scenes – particularly the running race Ali finally enters to win a new pair of trainers – linger in the mind."
(Peter Bradshaw, The Guardian)
Dir: Neil Jordan    Ireland                1992
112  mins              
Starring:  Stephen Rea, Jaye Davidson, Forest Whitaker          
Language: English
A British soldier is kidnapped by IRA terrorists. He befriends one of his captors, who is drawn into the soldier's world.
"What elevates this little gem of a movie into a different dimension is that he does it with the twin taboos of Northern Ireland and adult sexuality and he does it with the aid of Stephen Rea, a great Irish stage actor blessed with a quite extraordinary sense of grief about everything he does. "I'm not good for much," sighs Rea, as the full, desperate nature of his sorry plight takes hold, and, like so much about The Crying Game, it really is enough to break the hardest of hearts"
(Barry McIlheney, Empire Magazine)
"Neil Jordan first came to view as the writer-director of "Mona Lisa" (1987), with Bob Hoskins as the chauffeur who has a love-hate relationship with a prostitute (Cathy Tyson). His films since then have been widely varied, from the odd supernatural comedy "High Spirits" to last year's winsome fable "The Miracle," which many liked more than I did. Now comes "The Crying Game," one of a very few films that wants to do something unexpected and challenging, and succeeds even beyond its ambitions. See this film. Then shut up about it."
(Roger Ebert, Chicago Sun-Times)
Dir: Woody Allen    USA                1987
88  mins              
Starring:  Mia Farrow, Dianne Weist, Mike Starr            
Language: English
A nostalgic look at radio's golden age focusing on one ordinary family and the various performers in the medium.
"Naturally, the proceedings are bathed in rose-tinted nostalgia. But Allen could still highlight the transience of celebrity and the triviality of much of the radio output in exploring the extent to which the medium dominated people's lives. Fondly lampooning the quizzes, soaps, sportscasts, comedy hours, news bulletins and kids shows of the period, he showed how the grown-ups took ephemera like Roger and Irene's tittle-tattle as seriously as Joe treated the Masked Avenger and Biff Baxter. Moreover, he also highlighted the popularity of novelty tunes rather than the hits from the American Songbook that usually punctuated his soundtracks."
(David Parkinson, Empire Magazine)
Dir: Marshall Curry, Sam Cullman     USA                2011
85  mins              
Starring: Lisa McGowan, Tim Lewis, Kirk Engdall             
Language: English
A rare behind-the-curtain look at the Earth Liberation Front, the radical environmental group that the FBI calls America's 'number one domestic terrorist threat.'
"But Daniel did achieve a certain level of dignity in standing by his convictions. Ultimately he came across as a gentle soul, who made serious mistakes when he was young.
Is it right to brand this man a terrorist?
This documentary did not answer the question, what it did do is raise a whole lot more and in the best way, to make you have a long, hard think."
(Louise Gray, The Telegraph)
"Curry and co-editor Matthew Hamachek assemble the wide-ranging material into an informative, compelling story line.."
(Justin Lowe, The Hollywood Reporter")
2012
Dir: Frank Capra     USA                1939
129  mins              
Starring: James Stewart, Jean Arthur, Claude Rains, Edward Arnold                 
Language: English
A naive man is appointed to fill a vacancy in the US Senate. His plans promptly collide with political corruption, but he doesn't back down.
"Cast for the hesitant naivete that distinguished him from Gary Cooper's folksy decency, Stewart's passage from idealism to harsh-won wisdom was not only credible, but also deeply moving, as he made superb use of both his beanpole vulnerability and his stuttering, initially poorly pitched delivery style to win over the sceptics in both the body and gallery of the meticulously recreated Senate Chamber."
(David Parkinson, Empire Magazine)
"There's tremendous dramatic impact threaded throughout the picture, interwoven with those deft human episodes which have become familiar with Capra's direction in previous pictures. He keys the motivation of his basic premise without wasting time, and then carries it through vigorously."
(Variety Staff, Variety Magazine)
Dir: Carlos Sorin      Argentina                   2002
92  mins              
Starring: Javier Lombardo, Antonio Benedicti, Javiera Bravo                  
Language:Spanish with English subtitles
Three people and a baby set off on separate journeys, along the same road; their disparate dreams and stories intertwine amidst the breathtaking deserted Patagonic route.
"The premise is small, but the plot threads are delicately woven, while it's all put together with skill and a strong sense of balance between humour and solemnity." (Patrick Peters, Empire Magazine)
".. this is a gentle film with a pleasing sense of calm and compassion. It has quiet, unassuming charm."
(Peter Bradshaw, The Guardian)
Dir: Robert Redford      USA                    1994
133  mins              
Starring: Ralph Fiennes, John Turturro, Rob Morrow                     Language:English
Dick Goodwin discovers game shows are fixed: Charles Van Doren is fed answers so he beats Herbie Stempel.
"Starting with something as preposterous as a rigged gameshow, Quiz Show tackles big American themes: the cult of celebrity, the demonic influence of big business, the hidden price of fame, the conflict between education and entertainment, the mushrooming power of the media and the simple lure of easy money. Rich and stimulating, this is also a film with character and real heart, distinguished by award-worthy performances, stunningly subtle direction and a streak of barbed wit."
"As directed with quietly dazzling acuity by Robert Redford, "Quiz Show" offers a portrait of slipping standards, delicate lies and a sensation-loving public that may genuinely prefer such falsehoods to the truth."
(Janet Maslin, New York Times)
27th September 7.00pm
Dir: R.J.Cutler      USA                    2009
90  mins              
Starring: Anna Wintour, Hamish Bowles                     Language:English
Trailer (click watch trailer button on page)
A documentary chronicling Vogue editor-in-chief Anna Wintour's preparations for the 2007 fall-fashion issue.
"In his bid to take this world seriously, Cutler turns the other cheek, especially when dealing with flamboyant contributing editor André Leon Talley. But he takes on a harder job, which is to find something of value in among the sequins, froth and air-kissing. It's a film about two women who made their fantasies a reality and, in a world where fantasy now translates as Transformers and Hobbits, such a modest but significant achievement can only be applauded."
(Damon Wise, Empire Magazine)
"…the fact he even got his foot in the door of Vogue's plush New York offices is to his credit. While there's no doubt that the final cut met with Wintour's approval before it was ever seen, it doesn't come across entirely as a glorified advert for Vogue. Fast, funny and full of energy, as a study of high-end magazine journalism at its most self-important, The September Issue is hard to beat."
(James Mottram, The Independent)
Dir: Curtis Hanson       USA                    2000
107  mins              
Starring: Michael Douglas, Tobey Maguire, Katie Holmes                       Language:English
An English Professor tries to deal with his wife leaving him, the arrival of his editor who has been waiting for his book for seven years, and the various problems that his friends and associates involve him in.
"Wonderful. This is not a quick hit, bad aftertaste froth – rather it is a rich, complex broth which steams slowly into your senses and leaves you with a warm, lasting glow."
(Colin Kennedy, Empire Magazine)
"Wonder Boys flies in the face of a dumbed-down Hollywood through literary references and jokes that depend on some passing acquaintance with the names of Carlyle, Macaulay, Hadley, Hemingway and Genet, and it touches lightly but deftly on aspects of the literary process. It's also put together with loving care.."
(Philip French, The Guardian)
Dir: Richard Ayoade   UK                   2010
97  mins              Cert: 15A
Starring: Craig Roberts, Sally Hawkins, Paddy Considine                              Language: English
Trailer (Click watch trailer button)
15-year-old Oliver Tate has two objectives: to lose his virginity before his next birthday, and to extinguish the flame between his mother and an ex-lover who has resurfaced in her life.
"A perfect blend of cool, quirky comedy and warm-hearted drama, crafted with such poise that it should see the transcendence of Ayoade from TV nerd-comic to true big-screen talent."
(Dan Jolin, Empire Magazine)
"The story has the makings of a sombre, naturalistic comedy – Mike Leigh by way of Alan Sillitoe – but Ayoade, who, as a star of The IT Crowd , knows a thing or two about surrealism, brings an invigorating streak of minor-key otherworldliness to the picture. Employing freakish camera angles, making good use of original songs by Arctic Monkeys' Alex Turner, Ayoade skilfully bats away any lurking comparisons to Wes Anderson."
(Donald Clarke, Irish Times)
Dir: Joseph L. Mankiewicz    USA                    1950
138  mins              Cert: 12A
Starring: Bette Davis, Anne Baxter                             Language: English
Trailer (Click watch trailer button)
An ingenue insinuates herself in to the company of an established but aging stage actress and her circle of theatre friends.
"The stinging bon mots occasionally sound handcrafted rather than raspingly spontaneous, but aspiring actress Anne Baxter's rise to the top over the corpse of her supposed idol, Bette Davis, remains rousing and endlessly amusing. And the merciless demythologising of the tawdry trappings of fame is acutely relevant in these days of transient celebrity. "
(David Parkinson, Empire Magazine)
Dir: Tom Hooper              UK/USA                    2010
118  mins              Cert: 12A
Starring: Colin Firth, Geoffrey Rush, Helena Bonham Carter                            Language: English
Trailer (Click watch trailer button)
The story of King George VI of Britain, his impromptu ascension to the throne and the speech therapist who helped the unsure monarch become worthy of it.
"If we start small, a lonely prince trying to express himself, we end big. History knocks the door down. Edward abdicates just as that unquenchable ranter Hitler gets warmed up, and Timothy Spall drops by as a slippery Churchill (a jar to the film's subtleties) to sneer about oncoming "Nazzzeees". A sense of terrible urgency engulfs the therapy, but what an ending it offers. George VI must use his faltering voice to soothe a frightened nation in a radio broadcast, all but conducted by Logue, transformed into match-winning glory. You'll be lost for words."
(Ian Nathan, Empire Magazine)
"Offering another touching, furrowed performance, Firth makes it clear that the king (known as Bertie to his intimates) is very much a victim of his own birth. In one particularly moving sequence, while musing upon the misery of his circumstances, he is allowed to finish the construction of a child's model aircraft. Maybe if he'd had a less rarefied upbringing, Bertie might have grown up into a perfectly happy, contentedly fluent tobacconist or railway porter.
So, for all its fusty throwbacks, Hooper's picture does exhibit real psychological insight. It also has a powerful personal drama at its heart."
(Donald Clarke, Irish Times)
Dir: Xavier Beauvois        France                    2010
122  mins              Cert: 15A
Starring: Lambert Wilson, Michael Lonsdale, Olivier Rabourdain                             Language: French/Arabic
Trailer (Click watch trailer button)
Under threat by fundamentalist terrorists, a group of Trappist monks stationed with an impoverished Algerian community must decide whether to leave or stay.
"Of Gods and Men is a profound, immaculately acted movie. Its words are carefully considered, its images eloquent. The subject matter is urgently topical, the themes raised eternal and universal."
(Philip French, The Observer)
"The country foundered in a state of terror, with beheadings, throat-slashings and large-scale massacres an almost daily feature of life. These grim circumstances provide the setting for "Of Gods and Men," a beautiful, somber and rigorously intelligent new film by the French director Xavier Beauvois."
(A.O.Scott, New York Times)
Dir: Jim Loach    UK/Australia                    2010
105  mins              Cert: 15A
Starring: Hugo Weaving, Emily Watson                              Language: English
Trailer (Click watch trailer button)
Set in 1980s Nottingham, social worker Margaret Humphreys holds the British government accountable for child migration schemes and reunite the children involved, now adults living mostly in Australia, with their parents in Britain.
"Moving if low-key, Jim Loach's debut feature is proof that compassionate, socially conscious filmmaking runs in the family."
(David Hughes, Empire Magazine)
"Loach's film shows how Humphreys's controversial intervention triggered something like the retrieval of a repressed collective memory. There are excellent performances from Watson, from Hugo Weaving as a gentle, damaged soul and David Wenham, a truculent ex-Bindoon boy who makes an unlikely common cause with Humphreys"
(Peter Bradshaw, The Guardian)
Dir: Asif Kapadia    USA                    2010
106  mins              Cert: 12A
Starring: Ayrton Senna, Alain Prost                               Language: English
Trailer (Click watch trailer button)
A documentary on Brazilian Formula One racing driver Ayrton Senna, who won the F1 world championchip three times before his death at age 34.
"Ambitiously constructed, deeply compelling, thrilling and in no way only for those who like watching cars drive in circles. A worthy paean to a true talent."
(Dan Jolin, Empire Magazine)
"Senna, presented without voice- over and featuring undoctored, grainy footage, wisely avoids going too deeply into the intricacies of pit stops, passing strategies and tyres. The result is a film that should appeal equally to northern petrol heads and motor racing agnostics. Comparisons to When We Were Kings are more than justified."
(Donald Clarke, Irish Times)
2011
108  mins              Cert: PG
Starring: Jane Wyman, Rock Hudson
Language: English
When churlish, spoiled rich man Bob Merrick foolishly wrecks his speed boat, the rescue team resuscitates him with equipment that's therefore unavailable to aid a local hero, Dr. Wayne Phillips, who dies as a result.
"But primary credit for mooring the picture to an earthly and earthy plane belongs to the two stars. In appealing contrast to Miss Dunne's pristine languor, Miss Wyman is, as usual, refreshingly believable throughout. And playing his first major role, the strapping, manly Mr. Hudson gives a fine, direct account of himself, in the film's only real surprise. Otherwise, Universal has delivered the goods—or good—exactly as prescribed by the doctor."
(H.H.T, New York Times)
"Sirk turns all this into an extraordinary film about vision: sight, destiny, blindness, colour and light; the convoluted, rather absurd actions tellingly counterpointed by the clean compositios and the straight lines and space of modern architecture.  Sirk's films are something else."
(Time Out Film Guide 2010.)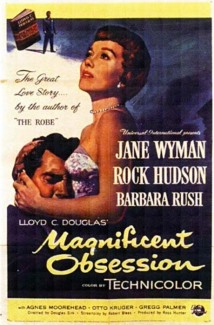 Dir: Ethan Coen & Joel Coen    USA                    2010
110  mins              Cert: 15A
Starring: Jeff Bridges, Matt Damon, Hailee Steinfeld, Josh Brolin
Language: English
A tough U.S. Marshal helps a stubborn young woman track down her father's murderer.
"The Coen Brothers have done it again, and never more exquisitely. At long last Coen devotees who have yearned to see them make an honest-to-goodness, rootin' tootin' Western can attain Movie Nirvana. Okay, No Country For Old Men is a Western, but a cruelly contemporary one; this time out we are taken back to around 1880, when the Choctaw Nation had not yet become Oklahoma, and there are horses and six-guns, outlaws, vigilantes and horse traders, a craggy lawman who is a law unto himself and a Texas Ranger wearing spurs that jingle jangle. True Grit is majestic, not just the stuff of a classic Western but an epic quest with Biblical and mythical tones. And heart.
Terrific: tough, exciting, funny, gorgeous and bewitchingly acted, this is darn close to perfection."
(Angie Errigo, Empire Magazine)
"The Coen brothers graft their wry modern sensibility onto a tried-and-true western template. The result is a small classic of this dusty genre,"
(Donald Clarke, Irish Times)
Dir: Gus Van Sant    USA                    1995
107  mins              Cert: 15
Starring: Nicole Kidman, Matt Dillon, Joaquin Phoenix
Language: English
Suzanne Stone is an aspiring TV personality who will do anything to be in the spotlight- including enlisting 3 teenagers to kill her husband.
"The result is sharply pointed and cruelly funny (with a brilliant, killer punchline to the tale involving a cameo from David Cronenberg). The supporting players, notably Douglas and Dan Hedaya, excel, but above all this is Kidman's moment, her timing and feel for the irony of the character is scarily spot-on."
(Angie Errigo, Empire Magazine)
"There are times when we get exactly the satire we deserve, and this is one of them. "To Die For," an irresistible black comedy and a wicked delight, takes aim at tabloid ethics and hits a solid bull's-eye, with Ms. Kidman's teasingly beautiful Suzanne as the most alluring of media-mad monsters."
(Janet Maslin, New York Times)
Dir: Michael Moore    USA                    2009
127  mins              Cert: PG
Starring: Michael Moore, Thora Birch                                 Language: English
Capitalism: A Love Story examines the impact of corporate dominance on the everyday lives of Americans.
"He ups the ante on his usual loudspeaker scene when he strides furiously around Wall Street, encircling bank buildings with yard of Crime Scene tape.  And his deadpan voiceover comment that the repayment structures of the sub-prime mortgage industry most closely resemble those of the Mafia is one of the many exhilirating moments-funny, angry and deadly accurate."
(David Grittin, The Telegraph)
"Michael Moore's latest documentary is both moving and blackly comical, and his best since Roger and Me"
(Donal Clarke, Irish Times)
Seven Brides for Seven Brothers
Dir: Stanley Donan    USA                    1954
102  mins              Cert: PG
Starring: Howard Keel, Jane Poewll                                 Language: English
In 1850 Oregon, when a backwoodsman brings a wife home to his farm, his six brothers decide that they want to get married too.
"MGM's infectiously, rabble-rousing musical bursts with life, colour and songs – the Barn Raising is a real show-stopper thanks to Michael Kidd's choreography, featuring male dancing at its most athletic (rather than the usual compliment of good-looking faces who could dance a little, four of the male cast were trained dancers and one a gymnast) while Sobbin' Women is both catchy and as non-PC as any male dominated pub conversation. June Bride has a lot to answer for in terms of the wedding season and Spring, Spring, Spring manages to wheel in lots of cute barnyard animals and establish the final romantic pairings.
Great songs, great set pieces and solid performances in this colourful and infectiously enjoyable musical."
(Emma Cochrane, Empire Magazine)
"Stanley Donen, a director who is no stranger to M-G-M musicals, has kept the pace of this lark swift and in time with the tunes. And Mr. Keel, whose baritone is as big and impressive as his frame; Miss Powell, who sings and acts to the pioneer manner born; as well as their sturdy and energetic kinfolk—and this must include the nubile, dancing damsels they abduct—are lovely to look at and hear. Although the powers at M-G-M are deviating from the normal song-and-dance extravaganza in Seven Brides for Seven Brothers, it is a gamble that is paying rich rewards."
(A.H.Weiler, New York Times)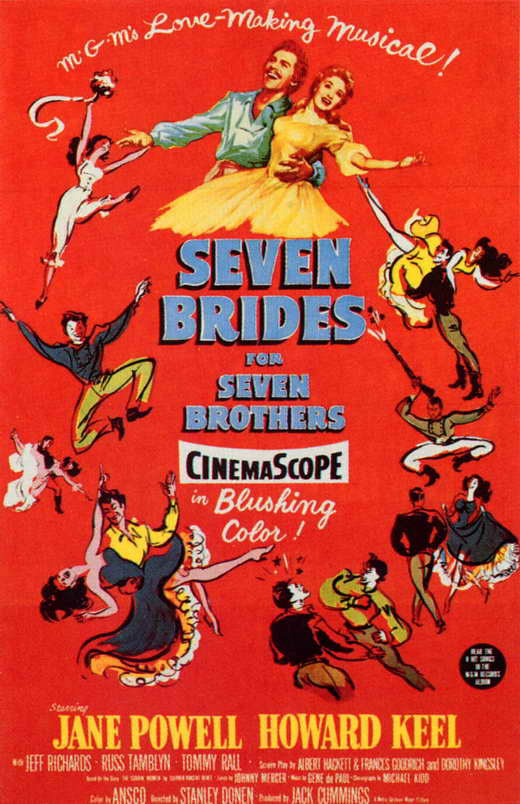 Dir: Frank Capra     USA                    1944
118  mins              Cert: PG
Starring: Cary Grant, Priscilla Lane, Peter Lorre
Language: English
A drama critic learns on his wedding day that his beloved maiden aunts are homicidal maniacs, and that insanity runs in his family.
" Josephine Hull and Jean Adair are delighfully dotty as the lethal landladies, while Peter Lorre and Raymond Massey (in a role originated by Boris Karloff) exude menace as their unwanted guests. John Alexander hurls himself into his hilarious depiction of the deluded brother whose conviction that he is President Theodore Roosevelt enables him to rationalises his sisters' murderous mercifulness. But it's Cary Grant who steals the show, as his double takes, deliberate delivery and pantomimic commotions allow just a whisper of sanity to seep into this gloriously eccentric scenario"
(David Parkinson, Empire Magazine)
Le Diner de Cons (The Dinner Game)
Dir: Francis Veber     France                     1998
80  mins              Cert: 15
Starring: Thierry Lehermitte, Jacques Villeret
Language: French (English subtitles)
Every Wednesday night, a group of smug Parisian professionals hold a "diner de cons" to which each brings an unknowing idiot who competes for the title of prize idiot.
"Writer director Veber delivers a marvellously-wrought plot at exactly the length it can sustain, and manages consistently to pull out situations that provoke laughter and astonishment in a classic example of the French farce."
(Kim Newman, Empire Magazine)
"Hours after the film ended, I found myself giggling at it. With pitiless deadpan severity, this movie shrugs off any suggestion of a humane or optimistic gloss on their dire lives, and succeeds in making it funny. What can I say? It is a little classic."
(Peter Bradshaw, The Guardian)
Dir: Sylvain Chomet     France                      2010
90  mins              Cert: 12A
Starring:Jean-Claude Donda, Eilidh Rankin
Language: English
A french illusionist finds himself out of work and travels to Scotland, where he meets a young woman.  Their ensuing adventure changes both their lives forever.
"Bittersweet, moving and utterly beautiful: a love letter to cinema and to Scotland."
(Helen O'Hara, Empire Magazine)
"HERE IS AN animated film about being left behind. It's about the advance of technology. It's about the savage, carnivorous nature of popular culture. It's about the realisation that, however we resist, younger generations will see us into the grave and forget we walked the earth.
No film since Goodbye Mr Chips – which bumped off half the juvenile cast in the Great War – has, in its final act, been so ruthless in tweaking the audience's tear ducts. Heck, if Sylvain Chomet's follow-up to Belleville Rendezvous weren't a little masterpiece, you'd run a mile to get away from it."
(Donald Clarke, The Irish times)
Dir: Stephen Daldry       USA                       2002
114  mins              Cert: 15
Starring: Meryl Streep, Julianne Moore,  Nicole kidman
Language: English
In three different eras, three women contemplate their lives and the possibilities of death.
"Daldry is a deft, imaginative director who appreciates his new medium. It is certainly easy to see why his seamless blending of three apparently unrelated stories has made The Hours a critical darling, with serious Oscar buzz."
(Empire Magazine)
"In "The Hours" Nicole Kidman tunnels like a ferret into the soul of a woman besieged by excruciating bouts of mental illness. As you watch her wrestle with the demon of depression, it is as if its torment has never been shown on the screen before. Directing her desperate, furious stare into the void, her eyes not really focusing, Ms. Kidman, in a performance of astounding bravery, evokes the savage inner war waged by a brilliant mind against a system of faulty wiring that transmits a searing, crazy static into her brain."
(Stephen Holden, New York Times)
Dir: Gavin Hood       South Africa                       2005
94  mins              Cert: 15A
Starring:Presley Chweneyagae, Terry Pheto, Kenneth Nkosi             Language: English
A teenage gangleader in a Johanesburg shantytown steals a car and finds a baby on the back seat; after he abandons the car, he keeps the child.
"With lively pacing, superb performances and a candid yet forgiving heart, Hood has created an inverse fairy tale that is never less than absorbing."
(Liz beardsworth, Empire Magazine)
Dir: Steve McQueen     Ireland                       2008
96  mins              Cert: 15A
Starring: Michael Fassbender, Stuart Graham, Laine Megaw
Language: English
The last six weeks of the life of the Irish republican hunger striker Bobby Sands.
"Anchored by Fassbender's turn, Hunger is as much about the personal as the political. The real breakthrough, though, is McQueen, who turns in a film that dazzles and challenges in equal measure."
(Ian Freer, Empire Magazine)
"And in the course of this haunting, often grueling film, Mr. McQueen makes you acutely conscious of the relationship between language and action, the gap between relatively abstract terms like "resistance," "radicalism" and "hunger strike" and the concrete deeds that give them flesh. The scope of "Hunger" is too narrow, its methods too intensive, to offer anything like a full historical analysis of the Troubles in Northern Ireland, and it does not really set out to explain why Sands and his comrades did what they did. Instead Mr. McQueen shows how they did it, and in what circumstances, and the fruit of his inquiry is both horrifying and, strange to say, beautiful."
(A.O.Scott, New York Times)
Dir: Elia Kazan    USA                       1954
108  mins              Cert: 15
Starring: Marlon Brando, Karl Malden, Lee.J.Cobb
Language: English
After the death of his brother, a young stevedore breaks the hold of a waterfront gang boss.
"Add the acting/writing heroics a restrained score by Leonard Bernstein and a striking, charcoal look by cinematographer Boris Kaufman, and you have an elegiac portrait of labour relations that feels like a kick in the slats. And that's just 30 years later."
(Empire magazine)
"And, while this explosive indictment of the vultures and the meek prey of the docksides, which was unveiled at the Astor yesterday, occasionally is only surface dramatization and an oversimplification of the personalities and evils of our waterfront, it is, nevertheless, an uncommonly powerful, exciting and imaginative use of the screen by gifted professionals."
(New York Times, 1954)

Dir: Tom Ford     USA                       2009
99  mins              Cert: 15A
Starring: Colin Firth, Julianne Moore, Matthew Goode
Language: English
A story that centres on an English professor who, after the sudden death of his partner tries to go about his typical day in Los Angeles.
"It sounds like a downer but A Single Man is exciting, emotionally alive filmmaking, a potent cocktail of style and substance. And Firth thoroughly deserves the Oscar."
(Ian Freer, Empire Magazine)
"Well, Mr Ford financed A Single Man himself and he can, thus, construct whatever gilded carapace he chooses. The film is an honest reflection of its creator's sensibilities and, for all its contradictions, it never fails to take the breath away. Don't miss it."
(Donald Clarke, Irish Times)
Dir: Luc Jacquet       France/US                       2005
80  mins              Cert: G
Starring: Morgan Freeman
Language: English
Documentary on the Emperor Penguin and its journey inland to its breeding ground, where the male protects the egg from the ice for two months without eating while the female returns to the sea for food.
"In an amazing account of life against the odds, thousands of penguins make the trek inland from their summer feeding-grounds to mate (largely off-screen — this is a U, after all) and lay their eggs. This epic quest for survival — eat your heart out, Lord Of The Rings — takes place amid the harshest weather on Earth, and it happens every year."
(Helen O'Hara, Empire Magazine)
""March of the Penguins" is simply, and astonishingly, the story of this annual cycle. It was filmed under unimaginable conditions by the French director Luc Jacquet and his team, including the cinematographers Laurent Chalet and Jerome Maison. There is not much to choose from in setting up their shots: On the coldest, driest and (in winter) darkest continent on Earth, there is snow, and there is ice, and there are penguins. There is also an ethereal beauty."
(Roger Ebert, Chicago Sun-Times)
2010
Dir: Lone Scherfig          UDS                       2009
100 mins              Cert: 15A
Starring: Carey Mulligan, Peter Sarsgaard, Olivia Williams, Alfred Molina
Language: English
A coming-of-age story about a teenage girl in 1960s suburban London, and how her life changes with the arrival of a playboy nearly twice her age.
"Scherfig is adept at drawing A-list performances out of unknowns (just go back to Wilbur Wants To Kill Himself and see what she did with Jamie Sives), but Mulligan deserves the credit. Every tiny shift in expression carries the film."
(Dan Jolin, Empire Magazine)
"Still, this is a delightful, resonant film, a great advertisement for Scherfig's self-effacing, but socially probing, directorial style, and a beguiling introduction to Mulligan, whom we will soon be seeing a lot more of."
(Sukhdev Sandhu, The Telegraph)
Dir: Jean-Paul Rappeneau                   France                       1995
135 mins              Cert: 15
Starring:Olivier Martinez, Juliette Binoche, Isabelle Carre
Language: French
An Italian Hussar hides from his enemies in Provence, where he meets a young woman searching for her husband.
"the director has stinted nothing and has produced a sweeping and visually sumptuous epic.
This is still, though, a wonderfully romantic film, arrestingly told and spectacularly realised"
(Karen McLuskey, Empire magazine)
"The movie aspires to an epic grandeur that is at once sweepingly romantic and contemporary in the lightness of its touch. Although that goal proves elusive, the film will still leave you dazzled with its vision of a beautiful world cleft by disaster."
(Stephen Holden, New York times)
Dir: Michael Powell & Emric  Pressburger                
  Great Britain                       1946
104 mins              Cert: G
Starring: David Niven, Roger Livesey, Kim Hunter
Language: English
A pilot with brain damage after bailing out is torn between this worl and the next, but an operation puts things to rights.
"It's a story with humour and heart, a genuine classic that rewards with repeat viewings. And always the question remains: is what unfolds in the story something real or a product of the battling airman's imagination?"
(Emma Cochrane, Empire Magazine)
"One of Powell's and Pressburger's most elegant achievements, and Powell's own favourite from his time at the production company Archer's, this is part romance, part surrealist courtroom drama. "
(Film4)
Dir: Wim Wenders                   Germany                       1998
105 mins              Cert: G
Starring: Compay Secundo, Ry Cooder, Ruben Gonzalez
Language: English/Spanish
Charming account of some exceptional musicians experiencing a late flowering; their enjoyment of life, and the style of music they developed is evident, with the energetic 90-year-old Compay Secundo slyly stealing the show with his reminiscenses and vocals.
"Wenders delivers a fly-on-the-wall/Steadicam viewpoint that allows us to enjoy seeing old-timers reeling back the years through the simple pleasure of singing and playing, doing what comes naturally."
(Neil Jeffries, Empire magazine)
"The music pulsates, and the pictures of Havana compare the city's grand but faded architecture with the musicians' weather-beaten faces. "
(Stephen Holden, The New York Times)
Dir: Joel Coen & Ethan Coen                   USA                       1998
117 mins              Cert: 18
Starring: Jeff Bridges, John Goodman, Julianne Moore, Steve Buscemi
Language: English
A middle-aged nobody is attacked having been mistaken for his namesake, a millionaire whose wife, an actress in pornographic films, has apparently been kidnapped.
"For those who delight in the Coens' divinely abstract take on reality, this is pure nirvana (cross Blood Simple with Raising Arizona if you must), yet beyond the hysterical black comedy, scattered violence and groovy dialogue, there sounds the same song to human goodness which enriched Fargo. In The Dude's easy riding, people-loving approach to the mess of his life, you are witness to something no end of $200 mill sinking tubs could touch upon. In a perfect world all movies would be made by the Coen brothers."
(Ian Nathan, Empire Magazine)
"Following the success of "Fargo", the Coen Brothers created their most gratifying character to date. If ever there was a philosophy to be gleaned from the Brothers' canon, then Jeff 'The Dude' Lebowski might well be the embodiment of it. Not only is this classic Coen Brothers, it's exemplary Jeff Bridges."
(Nick Hilditch, www.bbc.co.uk)
Dir: Luc Besson    USA                       1994
133 mins              Cert: 18
Starring: Jean Reno, Gary Oldman, Natalie Portman
Language: English
Professional assassin Leon reluctantly takes care of 12-year-old Mathilda, a neighbor whose parents are killed, and teaches her his trade.
 "Oozing style, wit and confidence from every sprocket, and offering a dizzyingly, fresh perspective on the Big Apple that only Besson could bring, this is, in a word, wonderful."
( Mark Salisbury Empire magazine)
Dir: Anne Fontaine    France                       2009
105 mins              Cert: 12A
Starring: Audrey Tautou, Benoit Poelvoorde, Alessandro Nivola, Marie Gillain
Language: French with subtitles
The story of Coco Chanel's rise from obscure beginnings to the heights of the fashion world.
"She's played by Audrey Tautou as a wilful, manipulative, increasingly confident woman, her bisexuality part of her independence. We see her develop by trial and error that loose, androgynous, simple elegance that was the keynote of her revolutionary style. We witness the birth of the little black dress and "la mode garçon", the latter fashioned from borrowings from Balsan's wardrobe, which makes Tautou look a dead ringer for Diane Keaton's Annie Hall."
(Philip French, The Guardian)
"Shot with an elegance befitting of the subject and with a sartorial pay-off that will thrill dedicated fashionistas, Fontaine's film is an attractive tribute to one of fashion's more mysterious figures."
(Liz Beardsworth, Empire Magazine)
Dir: James Marsh USA                       2008
94 mins              Cert: 12
Starring: Philippe Petit, Jean Francois Heckel, Jean-Louis Blondeau
Language: English
A look at tightrope walker Philippe Petits daring, but illegal, high-wire routine performed between New York city's World Trade Centre twin towers in 1974, what some consider "the artistic crime of the century."
"Recounting the simple story of a complicated character, this scales giddy emotional heights, revealing a portrait of a man teetering on the brink, in more ways than one…"
(Empire magazine)
Dir: Leonard Abrahamson Ireland        2007
Cert: 15A
Starring: Pat Shortt, Ann-Marie Duff, Conor Ryan
Language: English
A tragicomedy set in the world of gas stations in rural Ireland, where over-diligent employee of the garage searches for intimacy during the course of a life-changing summer.
"Under Abrahamson's sensitive, perfectly measured direction, the movie's tone turns more serious, until a crisis is unwittingly triggered with consequences that are emotionally devastating.  The dialogue, which consistently rings true, is used sparingly in a film where silence speaks volumes.
Crucial to this achievement are the understated performances of an exemplary cast, in which Shortt's performance is revelatory, subtly expressive as he tenderly captures Josie in all his complexity.  He inhabits the role so completely that the viewer is drawn inside his world, sharing his experiences and seeing them from his perspective.  Any early mental referencing of Shortt's deliberatley outsized comic creations is soon dispelled as this deeply affecting portrayal quietly, firmly takes hold.@
(Michael Dwyer, Irish Times)
Dir:Florian Henckel von Donnersmarck Germany                       2006
138 mins              Cert: 15
Starring: Martina Gedeck, Ulrich Muhe, Sebastian Koch
Language: German with English subtitles
In 1984 East Berlin, an agent of the secret police, conducting surveillance on a writer and his lover, finds himself becoming increasingly absorbed by their lives.
"If there is any justice, this year's Academy Award for best foreign-language film will go to "The Lives of Others", a movie about a world in which there is no justice."
(Anthony Lane, New Yorker)
"Nothing could provide a more effective antidote to Ostalgie- that is, the tongue-in-cheek nostalgia for the days of the Berlin Wall in which educated Germans are said sometimes to indulge.  this fierce and gloomy drama, written and directed by first-timer Florian Henckel von Donnersmarck, is an indictment of the sinister brutalities of the Stasi, the GDR's secret police, whose tentacular network of informers was so vast at fully 2% of the entire civilian population was on the payroll- a neywork of fear and shame worthy of George Orwell's Nineteen Eighty-Four."
(Peter Bradshaw, The Guardian)
Dir: Alfred Hitchcock USA                       1945
112 mins              Cert: PG
Starring: Gregory Peck, Ingrid Bergman
Language: English
A female psychiatrist protects the identity of an amnesia patient accused of murder while attempting to recover his memory.
"Hecht's screenplay was strewn with Freudian allusion, ranging from Ballytine's ownership of a single suitcase to the opening of doors on his first kiss with Constance (the last of which gave onto a radient white light).  But Hitchcock's visuals owed just as much to the Expressionist tendency he had acquired while working in Germany in the mid-1920s.  His use of angle and shadow was particularly UFA-like, as was the inclusion of gambling motifs (with the inmates' card game replacing the script's original sequence in which they rehersed William Congreve's 1700 comedy of marital manners, The Way of the World).  However, the most obvious Expressionist connection, with Robert Wiene's The Cabinet of Doctor Caligari, would only become apparent during the denouement.Yet for all its Germanic influences, the film's most famous sequence was produced by the Spanish surrealist Salvador Dali."
(David Parkinson, Empire Magazine)
Dir: Gus Van Sant USA                       2008
128 mins              Cert: 15
Starring: Sean Penn, Emile Hirsch, Josh Brolin, James Franco, Diego Luna
Language: English
The story of Harvey Milk, and his struggles as an American gay activist who fought for gay rights and became California's first openly gay elected official.
"Moving, exciting – and surprisingly cheering- study of pioneering gay polititian Harvey Milk. Oscar-winning Penn exercises admirabel restraint (for once) as the man who secured election to a prominent position in San Francisco city politics before being gunned down by a conservative colleague"
(Donald Clarke, Irish Times)
Milk is being screened at Tallaght Library to celebrate Lesbian Gay, Bisexual and Transgender History Month, a UK based initiative which South Dublin Libraries is proud to take part in.  Please also check out our events listings for other LGBT events in the month of February.
Dir: Duncan Jones USA                       2009
97 mins              Cert: 15
Starring: Sam Rockwell, Kevin Spacey
Language: English
Astronaut Sam Bell has a quintessentially personal encounter toward the end of his three-year stint on the Moon, where he, working alongside his computer, GERTY, sends back to Earth parcels of a resource that has helped diminsh our planet's power problems.
"The low-budget debut feature from Duncan Jones proves to be a thought-provoking gem.  Featuring Sam Rockwell as the lone inhabitant of a grimy moonbase, the film gestures towards such classics as 2001 and Solaris, but still feels agreeably fresh and unpredictable."
(Donald Clarke, Irish Times)
2009
Dir: Thomas McCarthy USA                       2007                106 mins              Cert: PG
Starring: Richard Jenkins, Haaz Sleiman, Danai Jekesai Gurira, Hiam Abbass
Language: English
McCarthy's modest tale of friendship is a welcome alternative to the prevailing political rhetoric that promotes fear of "enemies in our midst". Concern over the mistreatment of immigrants and government abuse of the Patriot Act make The Visitor a topical film,
McCarthy's heartfelt, often funny, story is the self-discovery of Connecticut widower Walter Vale (Jenkins), who befriends the Syrian drummer Tarek (Sleiman) and the Senegalese street vendor (Gurira) who have rented his rarely visited pied a terre through the kind of scam that victimises immigrants in New York every day.
Their uneasy meeting turns into a tentative friendship and Walter, a stiff WASP who exhibits many symptoms of "white man's disease", begins playing the conga drum under Tarek's patient instruction. Anything he does requiring rhythm is an instant joke, but the academic has a crash course in immigrants' reality when Tarek is arrested rushing through a subway turnstile by cops who drag him away to an immigration jail.
When Tarek's mother, Mouna (Palestinian actress Hiam Abbass), visits from Detroit, an unlikely romance is sparked between the man, who just lost his wife, and the woman who fears losing her son.
Alongside McCarthy's tender treatment of strangers who would never meet, except for chance forming a human bond, is a chilling view of life for immigrants who have the bad luck of being caught by law enforcement.
Decisions seem to be made and carried out in the spirit of Franz Kafka. In McCarthy's script, everything takes place under our noses, and most citizens are unaware or indifferent.
Jenkins gives a poignant performance as the awkward professor who slowly lets his feelings show, and then learns his tax dollars have paid for the deportation of a man who poses no threat.
As Tarek, Haaz Sleiman has the kind of effortless warmth that Charles is drawn to, but can barely express, while Danai Gurira as his wife frowns with a distrust that is hard to shed when you have no rights in your adopted country.
- David D'Arcy, Screen
Dir: Charles Laughton USA         1955     93mins        Cert: CLUB
Starring: Robert Mitchum, Shelley Winters, Lillian Gish
Language: English
The Night of the Hunter is a truly compelling, haunting, and frightening classic masterpiece thriller-fantasy, and the only film ever directed by the great British actor Charles Laughton. The American gothic, Biblical tale of greed, innocence, seduction, sin and corruption was adapted for the screen by famed writer-author James Agee. Although one of the greatest American films of all time, the imaginatively-chilling, experimental, sophisticated work was idiosyncratic, film noirish, avante garde, dream-like expressionistic and strange, and it was both ignored and misunderstood at the time of its release.
Robert Mitchum gave what some consider his finest performance in a precedent-setting, unpopular, and truly terrifying role as the sleepy-eyed, diabolical, self-appointed serial killer/Preacher with psychotic, murderous tendencies while in pursuit of $10,000 in cash. Lillian Gish played his opposite – a saintly good woman who provided refuge for the victimized children.
The disturbing, complex story was based on the popular, best-selling 1953 Depression-era novel of the same name by first-time writer Davis Grubb, who set the location of his novel in the town of Moundsville, WV, where the West Virginia Penitentiary (also mentioned in the film) was located. Grubb lived in nearby Clarksburg as a young teenager.
In addition, the visual-striking black-white photography of Stanley Cortez (who also shot Welles' black and white The Magnificent Ambersons (1942)) and the evocative musical score of Walter Schumann (mixing hymns, children's songs, and orchestral music) are exceptional. However, the film was not nominated for a single Academy Award, in a year when the romantic drama Marty (1955) unaccountably won the Best Picture Oscar.
Dir: Keith Fulton & Louis Pepe UK/USA          2002                93mins
Starring: Tony Grisoni, Philip A. Patterson, Rene Cleitman, Terry Gilliam.
Language: English
This documentary records the disintegration of one of the most expensive film projects ever attempted in the European film industry. Terry Gilliam had invested ten years preparing the adapting Cervantes' novel, and he managed to raise $32 million for the budget. The young documentarists joined up with the film crew eight weeks prior to the start of shooting and from then witnessed chronic problems: language barriers between the crew, flighty actors and a storm which shut everything down.  Terry Gilliam eventually even lost his own script – when filming stopped the insurance company claimed it.
Pan's Labyrinth  (El Laberinto del Fauno)
Dir: Guillermo del Toro Mexico/Spain/USA        2006       119mins     Cert: 16
Starring: Ariadna Gil, Doug Jones, Ivana Baquero, Maribel Verdu and Sergi Lopez
Language: Spanish
The year is 1944 in facist Spain. Young Ofélia is forced to move into her stepfather's home, now that her mother, Carmen, is about to give birth. She hates her new life and her new father, the tyrannical Captain Vidal. He is intent on snuffing out the brave maquis, rebel forces who, despite all odds, refuse to allow their spirits to be crushed by the fascists. Ofélia finds an ally in Mercedes ,Vidal's servant, who is secretly helping the rebels. She also discovers a labyrinth near the house and meets its grotesquely fawnlike keeper Pan, who gives her three dangerous tasks to complete.
With great ingenuity, an incredible sense of timing and an ability to connect the real and the imaginary with his themes and characters, del Toro is able to weave seamlessly between reality and fantasy, giving the story a fluidity that maintains its suspense throughout.
- Diana Sanchez, Toronto International Film Festival, 2006